Our church is a beautiful landmark with a rich history that extends back to the roots of this community. First established in 1753, our church has sat on its present site since 1773. It was the original town meeting hall and is located at a major crossroads in the center of town. It has served as a hub for various activities and community groups throughout its history, a tradition we carry on to this day. The church is a meeting place for self-help groups, art lessons, tai-chi, yoga, meditation groups, clubs, musical events, and public forums.
Our congregation dates to 1747, and our current church was built in 1803. A landmark today, it was for many years the center of government and social life in Kennebunk.
In early Colonial times, Kennebunk was a part of Wells. Communities were then designated as parishes, and the church or parish furnished an essential meeting place. People in the Kennebunk area had to travel seven miles, most by foot, to the First Congregational Parish of Wells to go to church or community meetings. In 1750, they founded their own parish, called the Second Congregational Parish of Wells, on the Kennebunk River.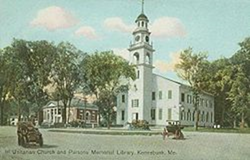 During the next decades, the center of activity shifted toward the Mousam River, and the congregation decided to build a new church at the crossroads where it stands today. The new building was completed in 1773 - just before the American Revolution. When Maine became a state in 1820, Kennebunk seceded from Wells, whereby the Second Parish of Wells became the First Congregational Parish of Kennebunk. By 1823, the church was painted white; before then it had been dark yellow. The congregation divided in 1826, and "Unitarian" was added to the name of the church.
Pictures provided by the Brick Store Museum.
Our Ministries History
We also have history with our ministers who led this church all the way back to the mid 1700s. Select these documents to read more...
Our History from 1743 up to 1980