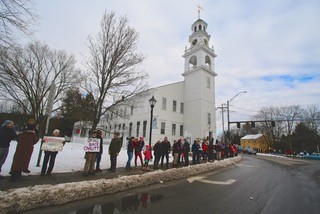 First Parish has long been committed to Social Justice. Most of that work focuses on racial justice, the environment, LGBTQ and elder issues, hunger, and immigration. Our Social Justice Committee (SJC) meets twice a month to discuss these issues and plan related programs and events.  
Racial Justice
Statement — The Social Justice Committee presented the following statement to the congregation on Jan. 27, 2019, and it was unanimously accepted as a church goal:
First Parish Unitarian Universalist Church of Kennebunk, Maine will be a leader in taking action to challenge racism in ourselves, our congregation, and the greater community.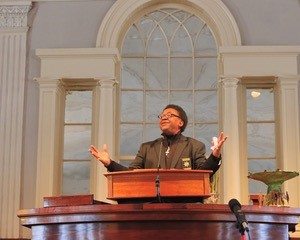 MLK Jr. Breakfast — Our church, through SJC, organizes and sponsors a breakfast and presentation in honor of the Rev. Dr. Martin Luther King Jr. each year on the official MLK holiday. This event has become an important community-wide celebration focused on King's legacy.
Workshops — SJC has sponsored workshops and panel discussions on racism, mass incarceration, and poverty.
Sunday Services — The Rev. Lara K-J Campbell, and SJC have planned and presented many Sunday services on social justice topics.
Book Discussions — Church members have participated in discussion groups on books related to white supremacy and racism.
Sabbatical — Our minister will focus on slavery as it occurred in our community for her sabbatical during the first half of 2019.
Environment
Local Actions — The Social Justice Committee supports church and community efforts toward maintaining and improving the natural systems of our planet. Among other projects, we have presented a Sunday service on the Paris Accord, taken part in local Earth Day events, and sponsored beach clean-ups. 
Share the Offerings --- We started a program this year-2020 to share 50% of the Sunday Service offerings, minus any pledge payments, to our near community services organizations as an indirect way to help those in need. We do this by members becoming pro-active sponsors for a non-profit organization, which will collect donations for a month period of donations. Applications are available with this link.
Sierra Club — We partner with Sierra Club Maine to sponsor a monthly film series. The films focus on environmental and social justice issues. Following the films, local experts provide analysis and answer questions. 
Citizens' Climate Lobby — SJC supports the work of the Citizens' Climate Lobby. Several church members are active in the lobby, making presentations locally and traveling to Washington, DC to speak to our representatives and senators about climate change and means to mitigate it. CCL advocates a program called "carbon fee and dividend," which would levy fees on fossil fuels and return the money directly to the people: www.citizenscimatelobby.org.
LGBTQ 
Welcoming Congregation — First Parish has been a Welcoming Congregation since 2006. After a rigorous self-examination and education process, the congregation voted to seek this designation from the Unitarian Universalist Association (UUA). Our Welcoming Congregation is inclusive and expressive of the concerns of LGBTQ persons at every level of congregational life: https://www.uua.org/lgbtq/welcoming/program
A History of Welcoming -- We have worked toward achieving the goal of becoming a welcoming congregation. See chronology on Welcoming.
Helping People in our Community
Elder Issues — The committee supports No Place Like Home, a community organization headed by a church member. Its vision is to build an age-friendly community that helps older adults thrive in their homes and neighborhoods, where they remain engaged and valued. Volunteers drive those in need to non-essential local destinations, help with small household tasks, and refer clients to other local services: https://www.nplhmaine.org/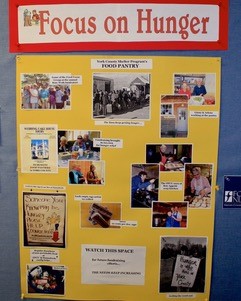 Focus on Hunger — People affiliated with First Parish help to serve meals at the Bon Appetit Soup Kitchen in Biddeford, and a member has served on its Board. We place food donation bins at the Hannaford Supermarket in Kennebunk, where many in our community donate non-perishable food, which is given to the York County Shelter in Alfred.
Community Outreach Services — A member of First Parish serves on the COS Board. This organization partners with the General Assistance offices of the Kennebunks and Arundel to help our neighbors who are faced with food, fuel and other specific needs. Our church participates in the collection of non-perishable food and produce for the community pantry at St. Martha's Church. We also join with other churches to deliver holiday food baskets and provide lunches during the summer for children in need.
Community Cupboard — Toiletries are collected in a bin at church and then brought to the Community Cupboard at Sanford UU Church.
New Mainers — The Social Justice Committee joined discussions with other area churches about how we might best help people recently immigrated into neighboring communities. Some of us help teach English, others help collect clothing and household items.
Resources
Maine Unitarian Universalist Social Action Network (MUUSAN) — We are affiliated with MUUSAN, which advocates for social justice, health, environmental, and immigration programs at the State Capitol as relevant bills come before the Maine Legislature: https://www.muusan.org
Equal Justice Initiative — Bryan Stevenson's non-profit, EJI, is committed to ending mass incarceration and excessive punishment in the United States, to challenging racial and economic injustice, and to protecting basic human rights for the most vulnerable people in American society. Several videos at: https://eji.org .
Suggested Books and videos
Racial Justice
Waking Up White: And Finding Myself in the Story of Race by Debby Irving — For 25 years, Debby Irving sensed racial tensions in her personal and professional relationships. In Waking Up White, she describes the "aha!" moments that drastically shifted her worldview. She offers readers thought provoking questions to help them consider their own implicit biases.
Between the World and Me by Ta-nehisi Coates — This book, written as a letter to the author's teenage son, lets the reader in on how it feels to be a black boy in an American city. Ta-nehisi Coates describes his youth in Baltimore, detailing the ways in which the school, the police, and street gangs, endanger, and threaten to disembody black men and women. He shows how "racist violence … has been woven into American culture."
Just Mercy by Bryan Stephenson — Just Mercy centers on Bryan Stephenson's legal defense of a young African American man sentenced to die. The case transformed his understanding of mercy and justice forever. Stevenson founded the Equal Justice Initiative, a legal practice dedicated to defending the poor, the wrongly condemned, and women and children trapped in the farthest reaches of our criminal justice system: https://eji.org/bryan-stevenson/
White Fragility: Why It's So Hard for White People to Talk About Racism by Robin Diangelo — The New York Times best-selling book explores the counterproductive reactions white people have when their assumptions about race are challenged and how these reactions maintain racial inequality.
The Strange Career of Jim Crow by C. Vann Woodward — One of the great works of Southern history, this book actually helped shape that history. Published in 1955, a year after the Supreme Court in Brown v. Board of Education ordered schools desegregated, Strange Career was cited so often to counter arguments for segregation that Martin Luther King, Jr. called it "the historical Bible of the civil rights movement." C. Vann Woodward analyses the history of Jim Crow laws and presents evidence that segregation in the South dated only to the 1890s and thus was a relative newcomer to the region.
The New Jim Crow: Mass Incarceration in the Age of Colorblindness by Michelle Alexander — A compelling argument that shows the many ways racial hierarchy still dominates American society. The New Jim Crow dives deep into the racial discrimination within our justice system. Passionate and engaging, this book will change the way you see race in modern America.
Video — Shadows Fall North: A two-hour documentary about the discovery of slaves' bones buried beneath a street in Portsmouth, NH, and how the community made them part of the Black Heritage Trail. Produced by the University of New Hampshire Center for the Humanities, Atlantic Media Productions, and the Black Heritage Trail of N.H: www.blackhistorynh.com
Environment
Creating Community Anywhere: Finding Support and Connection in a Fragmented World by Carolyn R. Shaffer and Kristin Anundsen  — Describes the community movement, discusses new ways of living together, and offers practical advice on improving one's own community. 
A Great Turning: The Process by David Korten — A great turning to an ecological civilization cannot be imposed by institutions of the old economy. Leadership must come from the people. We must learn as we go sharing the lessons of our experience as we create institutions for a new, sustainable economy.
The Story of Stuff by Annie Leonard — Shows how our obsession with stuff is trashing the planet, our communities and our health, and includes a vision for change.
Comfortably Unaware by Dr. Richard Oppenlander — This award winning book, according to Jane Goodall, "explains, so clearly, how what we choose to eat has a direct impact on the health of Planet Earth. … I urge you to read it, to think about its message, discuss it with your friends - and start to change the world, one bite, one meal, one diet at a time."