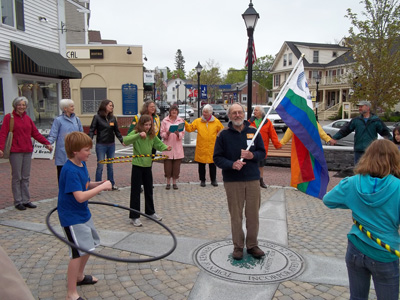 LGBTQ Parade in Kennebunk Center June, 2011
The Unitarian Universalist Association designated First Parish a WELCOMING CONGREGATION, as a result of a two year educational program geared at helping us to become more open, affirming and inclusive towards Lesbian, Gay, Bisexual, Transgender, and Questioning (LGBTQ) people. In 2007 the congregation voted unanimously to become a Welcoming Congregation and the UUA designation followed.
We recognize that to be a Welcoming Congregation is not a static event but an ongoing process for all of us. For this reason our Living the Welcoming Congregation task force will continue to offer educational programs and services to the congregation to increase awareness and ensure that we are truly welcoming
A Recent Event:
October 24, 2013 Reverend Charles Grindle, our Music Director, delivered a talk called 'The Second Coming (Out)' during which he declared his HIV positive status, provided information on the current state of HV/AIDS in the world, and asked that we become a pilot church for a program called 'Positively Welcoming' for churches interested in deepening their openness and inclusivity. It is hoped that the UUA in Boston will add this level of awareness to the Welcoming Congregation program.
Chronological History of the Project Events:
Year 1995
January: Joan and Des O'Hara with Minster Judith Smith-Valley, attended a social justice workshop sponsored by the Social Concerns Committee of the UU Community Church in Augusta. Rev. Mark Worth, UU Minister of Castine and Ellsworth, spoke of his work with Maine Won't Discriminate, a statewide organization formed to actively work to defeat the anti gay/lesbian referendum on the November ballot.
Throughout the year, the Rev. Judith Smith-Valley took an activist, leadership role in educating and motivating the congregation about the importance of defeating the referendum.
March: Social Concerns Task force was formed as an offshoot of the Social Concerns Committee to work at defeating the referendum. Six members of the task force, Des O'Hara,Jacky Peters, Joan Phipps, Joan Wuerthner, Sue Gesing and Jason Wentworth hosted an educational meeting and fundraiser for Maine Won't Discriminate. Fifty people from the church and community attended. A member stated, " I cannot know what my daughter's gender orientation will be when she grows up so I do not want to take a chance that here, in her home state, her rights might be in question."
April: Local chapter of Maine Won't Discriminate was formed with monthly meetings held at FPUU to organize to defeat referendum.
FPUU received a grant of $1500 from the UUA Fund for A Just Society to fund various activities and events to help defeat the anti gay/lesbian ballot initiative (One of 20 recipients nationwide.)  Grant and plan prepared by Jacky Peters, Des O'Hara, and the Rev. Judith Smith-Valley.  Church subcommittee (Just Society Project Task Force) was formed to administer the grant funds and was chaired by Jacky and Des.
August: Judith Smith Valley preached sermon on the importance of dialogue and speaking from the heart and introduced the Maine Speak-Out Project for Equal Rights, a program that teaches people to effectively conduct dialogues on anti gay discrimination and equal rights.
September: Just Society Committee sponsored an eight-hour community workshop facilitated by trainers from the Maine Speak-Out Project. The training taught volunteers to speak in a calm, non-defensive way when confronted with discrimination, by telling personal stories of discrimination to friends, acquaintances and small groups.
October: FPUU members became involved in the Maine Speak-Out Project; Church members gave talks in the community as Speak-Out volunteers. Kevin Flynn, Jacky Peters, Bob and Joan Wuerthner, Sue Gesing, Des O'Hara, Kate Perkins, Joan Phipps, and Judith Smith-Valley participated on the Kennebunk Speak-Out team that met regularly at the church
FPUU's Just Society Committee sponsored the Meritones of the Portland Gay Men's Chorus as fund raiser for Maine Won't Discriminate) and its efforts against the referendum.
Judith Smith-Valley preached on "The Power of our Story" featuring Maine Speak-Out volunteers telling their personal stories of discrimination.
Judith Smith Valley and Des 'Hara offered a four session UUA program called "The Welcoming Congregation" to explore ways to be truly inclusive of gay, lesbian, bisexual persons. Program was dropped after first session due to limited participation. (probably due to a lack of understanding about the program)
November: Victory! Referendum defeated!
Year 1996
Maine Speak-Out group comprised of church members and community participants continued to meet at FPUU and speak to community groups. Sue Gesing and Bob Wuerthner took turns as chair.
Kevin Flynn and Kate Perkins facilitated a Speak-Out sponsored by the FPUU senior youth group Heidi Lyons and Kristen O'Brien organized it and distributed leaflets and posters at the high school. 20-30 teens participated.
Year 1997
FPUU Speak-Out group interviewed community leaders and teachers about the climate for gay youth at Kennebunk High School.
FPUU Speak-Out group called a meeting with key high school administrators to discuss anti discrimination policies. Group raised personal concerns and concluded that high school officials felt there was not a problem and that they were "in compliance".
The group gathered information for families of gay teens for PFLAG and made it available to community.
Kate Perkins, active in fighting discrimination, invited Tom Murphy to hear people's views on his recent legislative stands against gay rights. Several FPUU members attended and spoke out to Tom.
Year 1998
March: Speak-Out members worked with high school head master, a teacher and school committee member to promote acceptance of the new civil rights team at the high school.
August 24, 1998: Minister Judith Smith Valley spoke out in favor of local Kennebunk ordinance to guarantee civil rights based on sexual orientation. Ordinance proposed by Selectman and church member Rachel Phipps was defeated 3-2
Statewide voters had voted to repeal statewide protections in February 51%-49%
Year 2000
Anti discrimination referendum supporting gay rights was narrowly defeated in November.
After the referendum defeat, a dozen followers of Rev. Fred Picket of the Westboro Baptist Church in Topeka, Kansas demonstrated at Kennebunk churches, carrying hateful signs ("God Hates Homosexuals") to protest against gay rights. While FPUU was not targeted, an adjoining church was. Dan and Mary Zachary Lang spearheaded a peaceful counter protest, a Vigil and Circle of Faith and Love, on the church grounds. This was attended by members of the Social Justice Committee as well as by other church members and friends.
A gay couple (both of whom had been members of the board of directors) left the church feeling a lack of congregational support.
Years 2001-2002
"Beyond Categorical Thinking" workshop was held prior to conducting ministerial search.
Become a "Welcoming Congregation" was stated as an objective in the Five Year Goals and Comprehensive Plan Implementation Time Line approved by the Church Council in October.
Year 2003
FPUU called as minister Carol Strecker, a lesbian.
Search Committee facilitated an open discussion on the choice of a minister with members of the over 60 club. The purpose was to listen to and address any concerns. There was general agreement that a good choice had been made.
December: First World AIDS Day service
Year 2004
Congregation members Sig Knudsen and Michael Coughlin had a civil union ceremony at the church. Many in congregation attended it and helped host the reception afterwards.
June: Gay Pride Service - Allies
Board authorizes forming of a Welcoming Congregation task force. Members include Andrea Rohde (Co-chair), Claudette Desautels (Co-chair), Sue Gesing, Sig Knudsen, Joan and Des O'Hara, Mary Russell, the Rev. Carol Strecker, Tobi Tobin, and Ted Trainer.
Fall: Printing of booklet From the Heart – three personal stories concerning gender/diversity issues.  This is now on the membership table and included in new member packets.
October: NED fall meeting in Sanford, Maine - Workshop on Welcoming Congregations - attended by Carol Strecker, Sue Gesing, Andrea Rohde, and Martha Howell.
December: Second World AIDS Day service
Year 2005
RE Director implements homegrown curriculum focusing on diversity and bullying.
February: All Church – video screening – "That's a Family" and pizza after church.
Interview – Kennebunk Post interviews Carol and committee members about the Welcoming Congregation Program.  We were contacted after submitting a news announcement about Keith Kron's upcoming service.
March: Full page interview with Rev. Carol Strecker, Co-chair Claudette Desautels and Task Force member Ted Trainer appears in the Kennebunk Post on March 4, 2005.
Our Task Force begins to network with the Welcoming Congregation Task Forces/Committees from Bangor, Norway and Brunswick.  Those churches make plans to attend Keith Kron's service.
March 20: Keith Kron – creator of the Welcoming Congregation Program conducts the service at FPUU.
April: Workshop Training with Winships and Spears from Waterville
June 5: Walk With the One You Love and picnic – 87 participants!
August 21: To Be Really Welcoming -A lay led service by Ted Trainer, a member of the Task Force, on his personal spiritual journey and how his work on the task force has affected that journey.
September 21: Potluck and Movie – In and Out
September 11 and 18: Personal testimonies are given by pairs of task force members at the beginning of the service to share individual stories of why we are involved in this important work and to encourage people to attend the workshop series in October.
October 5, 12, 19 and 26th: A four part workshop developed from the Welcoming Congregation Handbook and facilitated by members of the WCTF is offered.
October 3: WCTF members sign a request for a Congregational Meeting to support defeat of the referendum to rescind the law granting equal rights to the GLBT community in the state of Maine.
October: A warrant is posted to call a Congregational Meeting for October 30th to see if the congregation will approve a resolution in support of defeating the referendum to rescind the law granting equal rights to the GLBT community in the state of Maine.
October 30: Congregational Meeting: 
Article 1:  To approve the following: 
First Parish Unitarian Universalist Church will take a public stand against Question 1, a referendum to repeal anti-discrimination legislation based on sexual orientation, which will appear on the November 8, 2005 ballot.  Motion PASSED (41 pro, 2 con, 1 abstention) 
Article 1a:  First Parish Unitarian Universalist Church will display a banner in front of the building using wording directly related to the referendum such as "Vote NO on Question 1".  The article was amended to have the banner read:  Equal Rights for Everybody  No to Discrimination.  Motion passed unanimously.
October 31: The banner is hung.
November 5: Members of the Task Force participate in an interfaith rally and worship service in Portland
November 8: The referendum is defeated!
Year 2006
January 15 – Service on Oppression
January 10: (Connie and Ruthie) 24 (Strawberries and Chocolate), February 14(If These Walls Could Talk), 28 (Brother to Brother)  -  Film Series
April 11 Book Discussion – Middlesex
June 4: 2nd FPUU Walk With the One You Love and service about our journey to becoming a Welcoming Congregation
June 11 Annual Meeting  
Article 1:  To vote to become a Welcoming Congregation, as defined by the criteria of the Unitarian Universalist Association.  Passed unanimously. 
Year 2007
The Board of Directors appoints the Living the Welcoming Congregation Task Force 
October: Members of the task force attend the Northeast District Conference at Ferry Beach for Welcoming Congregations and those churches in the process of becoming Welcoming Congregations.